Keepin' Time with Chuck Pyle Vol.1
Finally, a songbook of all our favorite Chuck Pyle tunes. This book has piano, guitar (with fingering positions) and tab formats. Chuck also shares the stories that inspired the songs and some photos that let you share a bit of his past.
Song List: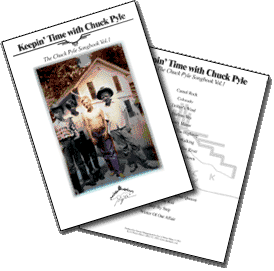 Camel Rock
Colorado
Drifter's Wind
Endless Sky
Gypsy Minor
Horses On The Highway
I Always Go Walking
Keepin' Time By The River
Lay This Old Guitar Down
Moonglow Rising
Other Side Of The Hill
Rio Rey
Sailing
Sedona Ramona (Tucson Cactus Queen)
Slow Time Kid
Step By Step
Winter Of Our Affair
---
Ordering Info
Songbook $25.00 + $7.00 shipping & handling
Send a check or money order to:
Terri Watson
PO Box 879
Palmer Lake, CO 80133

Please make check payable to Terri Watson.